Adhesive Paper Tapes, Aluminum Foil Tapes, BOPP Tapes, Filament Tapes, Polycoated Fabric Tapes, Duct Tapes, Floor Marking Tapes, High Quality Adhesive Tapes For Gasket Packaging And General Purpose, Manufacturer, Supplier, Exporter, Nashik, Maharashtra, India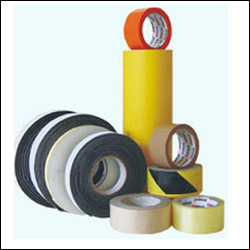 Our company expertly manufactures high quality Adhesive Paper Tapes for various purposes of gasket packaging and general purpose as well. Different types of Aluminum Tapes and Aluminum Foil Tapes manufactured by us are used for plugging extra holes in equipments. These adhesive tapes are used in current transformers, sealing in pipes used in chemical plants, for high frequency auto body repairs and for ducting of AC plants as well.
Also available are :
• BOPP Tape
• Filament Tape
• Polycoated Fabric Tape ( Duct Tape )
• Floor Marking Tapes
• Various Die Cuts
• Gaskets

These products are used for various purposes of Carton Sealing, Packing & Sealing Parcels and for stationery use in offices and homes.